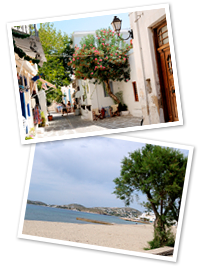 Paros Greece Holiday Rentals at Angeliki's Studios
On Paros Greece, Angeliki's Studios are located in Parikia, the island's capital, near the port, the Old Town and the beach.
Angeliki's Studios is a small holiday rentals unit, offering accommodation in Rooms and Self-catering Studios for 2-4 guests and in Apartments for up to 6 guests.
For those looking for discount accommodation, Budget Rooms are available on the ground floor of the building.
Angeliki's Studios is located in a quiet neighbourhood and has a traditional courtyard filled with flowers, where you can enjoy careless summer times under the shade of a vine tree. The local owner, Ms. Angeliki, welcomes visitors with a smile, while her and her family will try to make your stay pleasant.
Browse the following pages of Angeliki's Studios, to find the type of holiday rental that best suits your needs, and enjoy your holidays on Paros Greece.
Angeliki's Studios, Paros Greece, Tel. +30 22840 22166 & +30 694 4276705, + 30 6934 391607